Friday, August 10th, 2007 by Jenna
Archived from "The Paw Report:" Issue #14, August
These statistics are valid as of 8/10/07.
We have 1304 active customers.
576 of them live in Charlottesville—we get quite a lot of out-of-towners!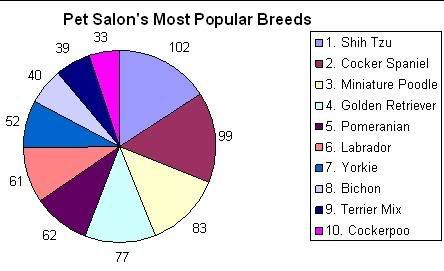 434 of our dogs get the shortest haircut—about a quarter of an inch all over.
39 of them have had a hand-scissored puppy cut—one of our most difficult grooms.
85 of our dogs have gotten a flea bath and 117 need hypoallergenic shampoo.
AKC's top 10 dog breeds are below.
Compare that to our top 10 breeds to
the right.
1. Labrador Retriever
2. Yorkshire Terrier
3. German Shepherd
4. Golden Retriever
5. Beagle
6. Dachshund
7. Boxer
8. Poodle
9. Shih Tzu
10. Miniature Schnauzer
The chart below compares the most common names of our customers with the most common names from a Pet Tag company which serves thousands of dogs. Casey, Maggie, Charlie, and Lucy tied for our 10th place spot. We have 12 of each.
Our top name and their top name is Max. We have 23 dogs named Max and one named Maxine. Other top names include Bear (we have 7 for Bear and 2 for Bearly) and variations on Sam (5 for Sam, 5 for Samantha, and 9 for Sammy). We also have one Summer, one Sundance, two Sunnys, one Sunshine, and one Soliel!