Tuesday, June 19th, 2007 by Mike Cronk
Basics: 
Country of Origin:  Scotland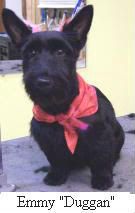 Group:  Terrier
Lifespan: 12-14 years
Height:  10 inches
Weight:  18-22 lbs
Color:  Black, wheaten, brindle
AKC Rank 2006:  42
The Scottish Terrier aka "The Diehard"
If you didn't see much of Scottish terriers as a kid, then your first introduction to one was probably Jock in "Lady and the Tramp"—accent and all.  A customer of mine owned three Scotties and felt that he had too many so he was looking for a home to place one in.  I offered to take in Margaret.  She was such a good little dog—calm, friendly, and very quiet.  Not really the description of most Scotties as they are typical terriers-"fearless, feisty, reserved but friendly, independent, and stubborn with a tendency to dig and bark."  Margaret was just the opposite and most of the Scotties we groom are as well.  Some of the males are holding on to their terrier heritage, but the females don't seem to be nearly as feisty as they once were.  This change is probably an example of how dogs are being bred for the temperament suited to a companion dog as opposed to the working dog of the 1800s.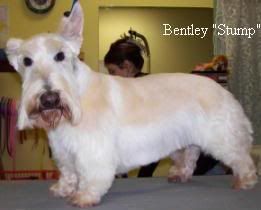 It was really difficult to figure out how to do Scottie heads and ears when I first started grooming.  It wasn't until I sent a groomer to a terrier workshop in PA that I was able to get it right.  The tuft in front of the ear wraps around the back halfway and the rest of the ear is shaved to 1/8 of an inch.  The top of the head and cheeks are about 1/4 of an inch—the eyebrows scissored long and the beard is left long and natural.  The back is taken down 1/4 to 1/2 an inch and tapered at the sides.  While the standard is that the tail is scissored tight (carrot tail) we prefer to leave a little length on the bottom (short flag tail).  Most of our customers prefer to have the beards scissored some to make it less of a mess at dinner time.  We also scissor the leg and chest feathers to please for ease of maintenance. 
Scotties have a coarse primary coat and plenty of undercoat as well.  They have a tendency to matt on their legs and chest if not brushed weekly.  Occasionally we have customers ask for a short cut all over with only the head and tail scissored in the Scottie fashion.