Tuesday, June 19th, 2007 by Mike Cronk
Basics: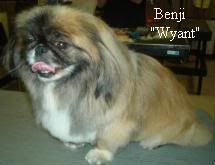 Country of Origin:  China
Group:  Toy
Lifespan: 12 years
Height:  3 long to 5 high ratio
Weight:  less than 14 lbs
Color:  All colors and combinations
AKC Rank 2006:  49 
The Pekingese
The lion is an exalted symbol of Buddha so the dogs of China who showed some resemblance were carefully bred to accentuate that similarity.  With extensive breeding under the auspices of palace eunuchs, we have the foundation of today's Peke.  No history of work for these lap dogs!  Their story is one of pampering—complete with personal servants!  They can be aloof, independent and not overly demonstrative.  They are better with adults than children.
Most of the Pekes we get in take a little patience at first, but get used to grooming after a time or two.  We have some that come in that are exceptionally friendly and affectionate so making generalities about the breed personality is hard to do. One of my favorite customers, Benji Wyant, is a pretty little boy—very friendly, easy to groom, and yet has lots of spunk.
This is a breed that I have yet to see come in with truly a show coat-hair down to the floor.  While the hair on the face and muzzle is fairly short, that of the neck is truly a profuse mane and can have corresponding length on the body, legs and tail.
Most owners want us to scissor the feathers on the chest and leg well off the floor-making weekly grooming an easier chore.  Pekes have a dense undercoat and will matt without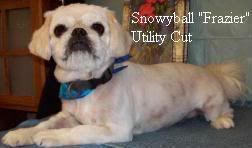 weekly brushing.  As I said earlier, very few of our Pekes come in with show coats—most are much shorter and quite a bit thinner as well.  While we do give some short utility haircuts all over, a good thinning with some scissoring of the feathers seems all that's necessary for most of our pets.
Recommended grooming by us is every 5-6 weeks depending on the coat.