Tuesday, June 19th, 2007 by Mike Cronk
Basics:
Country of Origin:  France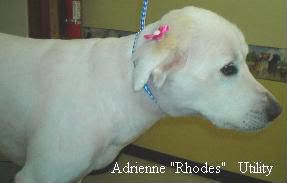 Group:  Working
Lifespan: 10 years
Height:  30 inches
Weight:  +/- 100 lbs
Color:  White with black eyebrows
AKC Rank 2006:  58
The Great Pyrenees
I haven't met an aggressive Pyrenees since I started this business in '75—truly a gentle giant.  This ancient breed (10,000 years B.C.) is thought to have migrated from Asia Minor around 3,000 B.C. to the Pyrenees mountains.  Nomadic shepherds used them to guard flocks of sheep.  They were extremely popular around the time of Louis XIV and were even declared the "Royal Dog of France."
Today's Pyrenees is described as "calm and well mannered when not provoked, devoted to family but wary of strangers."  They can be bull-headed for training and would require an alpha owner and fenced yard.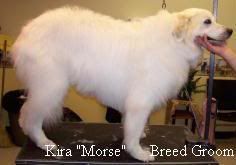 Pyrenees are double-coated and will matt easily with neglect.  Because they are a giant breed with a very dense coat we are often called upon to cut them short for the summer so they won't suffer in the heat and humidity.  My experience has been that this isn't necessary to keep your dog cooler.  Regular serious brushing and thinning can keep your dog comfortable by removing a bulk of the undercoat while still maintaining a beautiful secondary coat.  This grooming should take place weekly at home and every 8 weeks professionally.  However, a short clip in the spring should last through the summer and make a farm dog easier to keep and more comfortable as well.