Tuesday, June 19th, 2007 by Mike Cronk
Country of Origin:  Canary Islands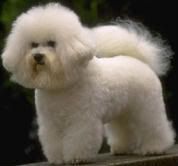 Group:  Non-sporting
Lifespan: 12-15 years
Height:  12 inches
Weight:  10-15 lbs
Color:  White
AKC Rank 2006:  29
The Bichon Frise
The Bichon's height of popularity was around the time of Frances I and Henry III when the breed was a favorite of the well-to-do but it fell to near extinction around WWI.  The breed was brought to the states in the 1950s but didn't gain serious popularity until 1971 when it received AKC recognition.  This companion dog is good with children, sensitive, responsive and affectionate.  Our experience with them in the shop has been very good—they are generally calm and friendly.  Their patience is a blessing because their haircut involves a lot of scissoring and brushing. 
Most pictures of Bichons depict the very dense, long white coat of a show dog.  If this is the case, the haircut standard calls for a full round head with thinning at the top of the nose.  The top of the head to the front of the eyes is scissored so the hair does not fall into the eyes.  The neck is scissored and blended to the head.  The body is scissored anywhere from 1-2 inches in length and the legs are scissored into full cylinders.  The tail is left full and long.
Yet we see very few Bichons that truly have the coat this haircut requires.  If the hair is silky in texture and lays flat, then the full round head appearance is impossible.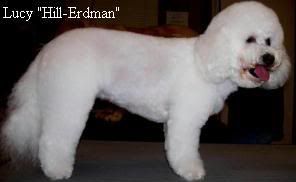 The full breed groom would require monthly visits to maintain, while scissoring the same style, but shorter, lasts longer.  Most of our Bichons have their bodies clipped from 3/4 to 1 1/2 inches in length with tighter legs and head as well.  We do have a few Bichons that get a 1/2 inch clip all over with a short, round head and scissored tail.
Our recommended grooming appointment would be 4 to 6 weeks as long as you thoroughly brush your dog at home once a week.  We can't keep this fluffy look if we need to cut out tangles.