Tuesday, April 24th, 2007 by Mike Cronk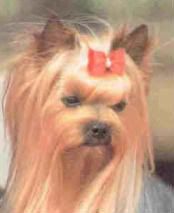 Basics:
Country of Origin:  England
Group:  Toy
Lifespan:  14 years
Height:  No standard
Weight:  15 lbs
Color:  Tan and blue-grey
AKC Ranking 2006:  2
The Yorkshire Terrier
The Yorkshire Terrier originated as a typical terrier of England.  It was bred and used as a ratter for the coal mines of Yorkshire.  From this rugged beginning, the use of Yorkies has evolved into that of a companion dog.  Instead of the Terrier group, they are classified as Toys.  Their personality is described by such adjectives as "bright, inquisitive, self-assured, stubborn and at times, aggressive."  With a description like that, there is no doubt that the Yorkie's ancestry stems from terrier heritage.  To suit their more recent use as companions, they are being consistently bred to be half their typical 14 lb size and their long satin coats are more beautiful than ever.  Yorkies tend to exercise themselves and are best with attentive adults instead of children.  They rank #2 in the AKC's count of registered breeds.  I expect that the Yorkies of the future will continue to be smaller and happy in disposition.
The coat of a well-bred Yorkie is floor-length, straight, soft and silky.  It is believed that Maltese were part of the original breeding to give the Yorkie that lovely coat.  But owner beware—this coat requires weekly brushing followed by combing to keep it tangle-free. 

The standard breed groom calls for the top of the ears to be clipped short inside and out.  The edges are scissored to a point.  The hair between the pads and the groin area is also clipped. The coat is to be brushed and combed thoroughly.  Yorkies are bathed with our Best Luxury Shampoo and coat conditioner is optional.  The outside edges of the feet are trimmed to give them a round appearance and the skirt is lightly scissored to remove dead ends and provide a clean line. 
Most of our customers prefer the "summer cut."  They like the chest and leg feathers to be scissored 1.5 to 2 inches in length.  With less hair comes ease of maintenance and cleanliness. 
We do a number of total body clips that range from 1/2 to 1 inch in length as well.  Most customers prefer the top knot to be scissored into bangs instead of tied up in a ponytail.  We generally scissor the face round when shorter body cuts are asked for.
Since the longer coats will require a lot of brushing at home, getting an early start on grooming is necessary (as with most breeds).  Anytime between 2 and 3 months for a first visit would be great, even if it's just for a bath and nails.  Follow-up visits for Yorkies should be every 4-6 weeks.