Tuesday, April 24th, 2007 by Mike Cronk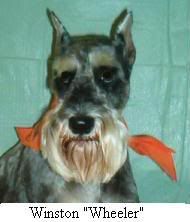 Basics:
Country of Origin:  Germany
Group:  Terrier
Lifespan:  12-14 years
Height:  12-14 inches
Weight:  13-15 lbs
Color:  Black-silver-grey
AKC Rank 2006:  10
The Miniature Schnauzer
Adjectives used to describe the Miniature Schnauzer say it all:  engaging, bouncy, spunky, scrappy, playful and alert.  This most popular of the terriers is a great family pet but would definitely demand and deserve a lot of attention.  If you have a nice fenced-in backyard or plan to go on long walks daily, this may be your dog.  But if you want to lead a quiet lifestyle, stay away from the Schnauzer!
Our experience in the shop has been that the Schnauzer typically does not take well to grooming, but can be taught.  They are almost considered non-shedding which is a plus
for many owners. But they do have a double coat and their fine undercoat needs weekly brushing.  Neglect of the beard and leg feathering leads to matting in short order.  Due to their propensity toward matting, we are called upon to scissor the beard, chest, and legs more than the typical show standard calls for.  If you are able and willing to brush and comb regularly we can leave the feathering to please.
The Schnauzer haircut calls for the head and ears to be clipped closely to about 1/8 of an inch.  The back and tail are to be clipped to ¼ of an inch and tapered into the sides—higher on the hips and lower on the shoulder.  The hair on the back legs is clipped to the top of the hock.  The beard is combed out and left natural while the eyebrows are scissored long and pointed, legs scissored into cylinders and chest to one inch in length.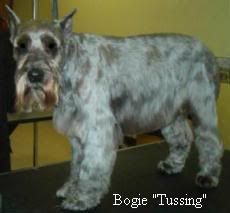 While this is the breed standard, keep in mind that most of our Schnauzer customers want the beard and feathering scissored to avoid the hassle of crumbs in the beard and hitchhikers on the feathers.
If you have a schnauzer or are interested in one, understand that they are highly engaging, require weekly grooming at home and training to be able to accept professional grooming (clippers, dryers, bath).