Tuesday, April 24th, 2007 by Mike Cronk
Basics:

Country of Origin:  Italy
Group:  Toy
Lifespan: 12-14 years
Height:  No standard
Weight:  4-7 lbs
Color:  White
AKC Rank 2006:  18
The Maltese
This is one of our favorite companion dogs.  With proper breeding, they are highly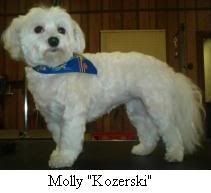 affectionate, well-mannered and adjust well to a family environment.  Due to their petite size and gentle nature, they are perfect for adults and older children but handling by young children (under 10 years) should be monitored.  Minimal exercise is fine for this easy-going dog.
While the breed standard calls for a long coat well to the floor, all of our customers like some scissoring to minimize their brushing and combing and to maintain cleanliness.  The hair on the top of the head, if allowed to grow, is tied up into either one or two top knots (pony tails).  Most of our Maltese owners prefer not to deal with tying up the hair and choose bangs instead.
The most popular cut is our summer cut with bangs.  We scissor the legs, chest, and tail 1.5-2 inches long.  In addition to bangs, muzzles are trimmed to 1.5 inches as well.  We also do a lot of "personality cuts" where the body and legs are clipped all over
from 1/4 of an inch to 1 inch all over with bangs and a short beard.
When it comes to grooming, this is a gentle natured dog.  Keep in mind that the longer the coat, the more frequent your combing and brushing should be at home as they can matt up quickly.