Tuesday, April 24th, 2007 by Mike Cronk
Basics: 
Country of Origin:  Scotland
Group:  Terrier
Lifespan:  14 years
Height:  10 inches
Weight:  14 lbs
Color:  All colors but white,
black tipped ears, tail, muzzle
AKC Rank 2006:  48
The Cairn Terrier
Historically, the Cairn was bred to control vermin, a typical job for members of the small terrier group from Britain.  They are known as "earth dogs" from their work of chasing foxes, badgers, and rats out of their dens in the earth.  What this means for an owner is that, while they can make wonderful family pets, they would do best with older children and a fenced in yard.  Also, don't be alarmed if they dig in the garden as is their natural inclination.
Early in our marriage, Loretta and I moved to Charlottesville and shifted from a single family home to an apartment.  I was just getting out of the service and before leaving Fort Hood Texas, I gave my German Shepherd to one of my company NCOs.  I wasn't here long when we decided it was time for another dog—but smaller.  We happened upon Cairn Terrier pups and thought that getting a dog like Toto from "The Wizard of Oz" was great.  Scruffy proved to be lots of fun but did experience some skin allergies which are not unusual in the breed.
Cairns have a coarse primary coat and it is often accompanied by plenty of undercoat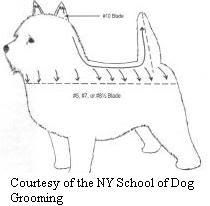 which requires brushing and combing once a week.  While it is not necessary to have clipping performed, it is accepted for the back to be cut to about 1/2 an inch in length and tapered to the sides.  The ears are clipped close inside and out.  Thinning shears are used in front of the eyes.  This is what we consider our standard "breed groom."  Many of our Cairns get their entire body and legs done to 1/2 an inch all over to minimize at-home grooming work.  Tails are left full and lightly scissored.  Since the coat is so coarse and dense, it will matt with neglect.
Below is a Cairn with a 1.5″ puppy cut.