Thursday, January 4th, 2007 by Mike Cronk
As I described in the last issue, there are certain breeds that we just don't do.  I groomed Chows for 25 years before I decided that I had enough.  Has my experience with the breed been unique?  I went online to find out.  Next Day Pets gives a candid overview of each of the breeds including a graph of characteristics as compared with the average dog.  Here's what they had to say about Chows:
Archived from "The Paw Report,"  Issue #6:  December
"They are very loyal and friendly with their family, but exceedingly reserved with strangers. They most often will become attached and overly protective of one particular member of the family. They are bossy, serious, and obstinate. The Chow Chow is a very dominant breed that requires a dominant owner. They are stubborn and have a mind of their own. They are not good with other pets unless they have been raised with them from an early age."
With an abundance of undercoat and heavy seasonal shedding, Chows require intensive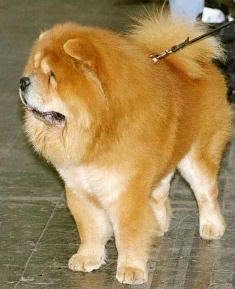 grooming on a regular basis and they just aren't fond of it.  Most owners can't keep up with the home brushing and by the time the dogs get to us, their coats are extremely thick and usually matted.  Remember, the article said
that Chows don't like strangers—what are groomers to them?  Strangers!  Imagine trying to heavily brush and clip a dog who has that attitude!  Most Chows took two to three groomers to hold them down and frankly were far too dangerous to work on.  I'm surprised it took me as long as it did to say "enough!"
Based on this description, it makes one wonder what would compel anyone to own a Chow and then expect it to be a good family pet and cooperative with groomers.