Thursday, November 16th, 2006 by Mike Cronk
Basics
Country of origin: Germany and
Central Europe (France and Russia)
Group: Toy for Toy Poodle,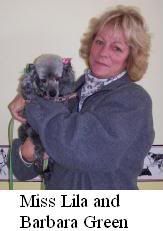 Nonsporting for Miniature and Standard
Lifespan: Toys – up to 18 years!
Miniature and Standards – 12-15 years
Height: Toy – under 10"
Miniature – under 15"
Standard – 15" and over
Weight: Toy – 4-8 lbs
Miniature 12-18 lbs
Standard – varies
Color: Any solid color or varying shades.
AKC Rank 2006:  8
The Poodle
If you investigate the temperament of the poodle, almost all breed books use the following adjectives: lively, amiable, intelligent, responsive, playful and eager to please. Pert and peppy are the words applied specifically to the Toy. Poodles are highly intelligent and trainable.  They are often seen performing incredible acrobatic tricks in circuses. What a great list of compliments! So, if you're looking for an "in your face" indoor companion that is not to be ignored, the poodle is for you!
Years ago I had a customer that owned an apricot Miniature named Peaches. My customer just had a baby and decided it was too much to handle with both the baby and the dog so she was looking for a home for Peaches. Her dog was easy to groom and seemed like a great little dog so I adopted her for my family.
My daughter Laura liked all the attention Peaches gave and they bonded immediately. I, on the other hand, wasn't too happy. After working all day with dogs, I needed something less demanding—and when she needed something she did a lot of barking! Whenever I came home or company was over, the excitement and barking was more than I could handle.
Fortunately, within a week the original owner called and said her family missed Peaches too much and could they have her back. Whew! That was one of the best phone calls I've ever received from a customer! Don't get me wrong, she was a great little dog, but I am just a "Big Dog" kind of guy.

The coat of a poodle is curly, harsh and dense. It requires frequent maintenance including a thorough brushing followed with a comb at least weekly. Although they do very little, if any shedding, dead hair does collect in the coat so they need to be brushed out or they will quickly matt up.
There is typically a specific groom style that is accepted for show and this is also the clip of choice for pet groomers as well.  The show clip for the Poodle is the Continental clip but it's too fancy to be desired here.  The poodle's coat lends itself to being shaped so there are many other clips we can perform.  The most popular with us are the Utility clip and the Kennel clip. The Utility is a short all over clip that ranges from 1/4-3/4 of an inch. The top knot and tail are scissored. Faces can be shaved clean, have a donut or have a French mustache. The Kennel clip is the same except that the legs are scissored into cylinders to provide a fuller appearance. I have experience in the Lamb and Dutch clips as well but they are less popular.
Did you know that the pads of a dog are one of their most sensitive areas? That's why most dogs don't like you to mess with their feet and why we prefer to do "natural feet" (scissored) as opposed to shaving them for "clean feet," the standard poodle feet.  We are pleased to see this concern for the dog's comfort reflected as a larger trend in grooming outside of our shop.
Of our customers, 191 are Poodles or Poodle mixes. The Miniature is the most popular with us–we get 75 of them.  We have a total of 76 Poodle mixes, 34 of which are Poodle/Cocker Spaniel crosses. That's a lot of Poodles!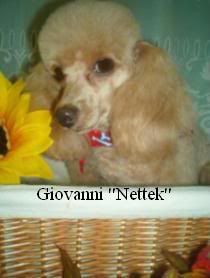 Giovanni's owner, Gabriel Nettek wrote us a beautiful description of her life with Poodles:
"When I was 8 years old, I told my mother I wanted a brother, sister, or a dog. I got my 1st dog, a Poodle named Isabelle. For 13 years she was my companion, best friend, and show and tell exhibiter. I never trained her, she knew it all first by showing it to her once. Through the years I have had many dogs, mostly mutts but also purebreds. Many dropped off at my farm as no longer wanted companions. I have passionately loved them all. Big, small, stubborn, fearful, aloof. So why my small Poodle now in my senior years?
They are smart, loyal, good watch dogs and don't shed and don't take up a lot of room on the bed. The grooming aspect is costly but what I like is that you can always change the looks of a Poodle: short all over, mustache, short cut, long, any mixture you want and the personality under all the hair is the same. Loyal, attentive, playful, constant companion and a great traveler–my best friend. Great energy to be around and give me a lift when needed: my Poodle Giovanni."
The curly hair of a Poodle is perfect for sculpting into numerous styles. Below are a few of the most common haircuts given to this breed.