Friday, October 6th, 2006 by Mike Cronk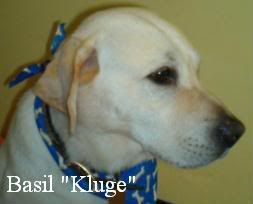 Basics
Country of Origin: Newfoundland – England
Group: Sporting
Lifespan: 10-12 years
Height: 21-24 inches
Weight: 65-80 lbs (male), 55-70 lbs (female)
Color: Black, yellow, chocolate
AKC Rank 2006:  1
  The Labrador Retriever
My sister Nina and brother Chris both have Labrador Retrievers as a part of their family. Nina's husband Ron is an avid sportsman and chose his Labs from hunting stock while my brother Chris wanted a good family member to entertain his three boys. Both are on at least their 3rd Lab and for good reason—these dogs get high marks across the board. A breed standard Lab is a calm house dog, playful yard dog, and intense field dog. Labs also make excellent guides for the blind and service dogs for the disabled.
Here's what Nina had to say about Labs: 
"Meet 'Jaeger' Greene, our female yellow Labrador retriever. She has been a part of our family for the past 7 years. We got her as a puppy in 1999. She has probably been the nicest Lab that we have had, and we've had 2 others, females. Our first dog was a Golden Retriever, male. After having the male Golden for 12 years, 'I' decided that a female Lab was the way to go. They stick around…don't tinkle on everything in sight and are more relaxed than
males….sorry, guys, that's just the way I see it, and they don't have as much dog hair as the Golden. My husband who loves to hunt … and has always wanted to have a dog…agreed to my 'sex' requirement!
Labs are just beautiful to look at, soft to pet, and loving members of the family. They are easy to train and will respond to anyone with authority. As Mike has said in many of his articles, training is KEY. You must start early and be consistent. I like knowing that my dog will always listen and is very loving with the grandchildren. I never even consider worrying about her with them. What a great choice for those of you who would like a family pet for the adults….and children! As to hunting…she is right there. She will retrieve a duck in the morning and sleep with a grandchild that night. What a perfect pet!"
If you haven't groomed a Lab, you may assume that short coat is easy to take care of but it can be quite the challenge. Labs are double-coated dogs—the outer coat is dense and hard in texture while the undercoat is weather resistant and protects them from cold, all types of ground cover, and water. Their ability to retrieve fowl out of water on a cold day makes them a favorite of duck hunters. It is that soft undercoat that requires proper brushing.  The primary reason our Lab customers bring their dogs to us for a bath is because we use a special undercoat removing tool which seriously minimizes shedding and allows the skin to breathe.
Some of our customers have gone so far as to give their Labs a haircut—between 1/8 and 1/4 of an inch. This really does cut back on the brushing altogether and the shedding that does take place is hardly noticeable.  Below is an example of this utility cut.
According to the American Kennel Club, the Labrador Retriever holds the rank of most popular totaling 137,867 Labs registered.  The Golden Retriever is a distant second place with only 48,509 registered—about 2/3 less than the amount of Labs. Here, we groom 58 Labs and 37 Lab mixes, totaling 95 Labs coming into our shop.
Labs are typically highly intelligent, easy to train and thrive on human companionship but as with all popular breeds, make sure you get a look at the parents and avoid getting a puppy who will be like his hyper and bone-headed parents.