Thursday, August 17th, 2006 by Mike Cronk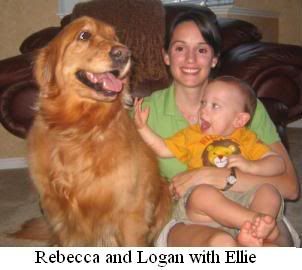 Basics
Country of origin: Scotland
Group: Sporting
Lifespan: 10-12 years
Color: Varying shades of gold
When it comes to a large dog that is an all around great pet for singles, couples, or a family with children it's hard to beat the Golden Retriever. After researching many breeds and talking with Dad, my daughter Rebecca decided that a Golden was the choice for her and her husband. I suggested she do 3 things; first find a reputable breeder, second, observe the parents or at least the dam on location and third, be willing to spend money—at least $500.
Through an online search, Rebecca found the Golden Retriever Club of America which helped her contact a reputable breeder in Winchester, VA.  This breeder has a national reputation for quality dogs and interviewed Rebecca to see if she was fit to adopt one of the puppies. In the interview, Rebecca described herself and husband: where they lived, how they would exercise, play with, and share their lives with this dog. Upon approval, the breeder selected a puppy from the litter that best suited their situation.
Rebecca wanted a dog to run and play Frisbee with who would also be calm at home since they lived in a town house community with lots of other families and dogs. She also planned on having children so the temperament had to be just right. Ellie cost her $900 and is one of the nicest Goldens I have ever met. She is now four years old and for the past year has shared the limelight with my grandson Logan. Rebecca did it the right way and got a wonderful dog that will hopefully give her 10-12 years of pure love and companionship.
But just like the Cocker Spaniel, Goldens have suffered for their decades of popularity.  Preying on demand, careless "back yard" breeders have ruined many of the breed lines.  We've seen Goldens that are exceptionally hyper, hard to train and either too big or small and skinny—very different from the breed standard.  But if you do your homework, your chances of getting the perfect pet are greatly improved.
In terms of grooming the Golden—that big dog does have a big coat! They need to be thoroughly brushed at least weekly with special attention given behind the ears, to the tail, and to the chest area between the front legs. Trimming the feathers can make grooming easier and still retain the "Golden Look."
We have three basic clips for the Golden. The first and longest of these is the Breed Groom.
The standard Breed Groom for the Golden is primarily a good brushout. The feathers on the tail, chest, and legs are lightly trimmed to remove dead ends, the pads are rounded and the groin area is clipped short (maintains cleanliness when dogs relieve themselves). The hair around the ear opening is clipped as well to make ear cleaning an easier process. Keep in mind that every groom includes a nail clipping. This groom requires the most maintenance at home–heavy brushing followed with a comb at least weekly. Professional grooming to maintain this coat needs to happen at least every six weeks.
The Summer Cut. This is the "in-between" cut, not too short but not too long either! After thoroughly brushing out your dog, we trim all the feathering on the legs, chest, rear and tail to about half of the original length–less hair means less maintenance and yet your Golden still looks like a Golden instead of like a yellow Lab.
The Utility Cut is the easiest cut to take care of at home. It is not so short as to show skin but it's short enough to need minimum brushing. This cut can help your pet stay cool in summer but so can the Summer Cut! The real benefit to the Utility cut over the Summer Cut is that it requires much less maintenance to prevent matting.  Read more about the differences between these haircuts in our Brushout, Short Cut or Something in Between article.